Madison, Indiana
Madison was the big town my mom visited for practical purposes when she was growing up in southeast Indiana. The big town enabled my grandmother to sell produce at the town's farmers' market and my mom to hold her first non-farm job at the historic Lanier Home. The five-and-dime store had fabric to make clothes, and her family used the Laundromat when the hand washer wouldn't do.

We wanted to introduce you to Madison, but not because you should bring your laundry. These days the town is beginning to fill with local restaurants and antique shops—fewer utilitarian five-and-dimes or pharmacies—and what charm it has!

On the frequent journeys we made to visit family in Deputy, 15 miles northwest of Madison, sometimes we would drive through the town, which would always include absorbing the view of the wide Main Street and brick buildings—and imagining all the stories that could unfold in this town reminiscent of the old, western frontier.

On a midsummer Saturday, we explored the farmers' market, which surrounds the Broadway Fountain. There we found produce from Pennington Heritage Acres farm along with lavender vinegar for a new fabric softener option. The Dancing Mushroom Farm had grow-your-own bags of pink oyster mushrooms. We learned about the Madison Winery, an estate winery north of town with a bed-and-breakfast overlooking the vineyard and valley. We shared a huge cinnamon roll from The Sweeter Life and met one of the market board members, Tom, who was the heartbeat of the market.

We ran into a friend who was visiting from out of town. He introduced us to the family-owned collection of restaurants: The Red Pepper (deli), Red Pepperoni (pizza), Red Roaster (coffee and breakfast), and Red Peppermint (dessert). Talk about an all-day restaurant crawl!

Heading east away from the market, we popped into the Galena Garlic Company to find olive oil and a bevy of spices. We also decided it was finally time to try a small hamburger from Hinkle's, a restaurant dating back to 1933.

My mom grew up across the street from one of the co-owners of Ditto's so, of course, we had to meet Richard. He and his partner, Jerry, curate a shop where you can find things from knickknacks to architectural home accents—including antique can openers and refurbished chairs of all kinds.

The Village Lights Bookstore is stunning and worth the trip. It features an open layout, highlighting the characteristics common among the old buildings of Madison. You can find new and old bestsellers, along with books from small publishers in our region that highlight Ohio Valley authors.

Just west of town on State Route 56 is Clifty Falls State Park, where you can enjoy the four picturesque falls of Clifty Creek. The park and the town holds a lot of memories for us Kramers. And our steamy, sticky August day walking around was no different: another opportunity to make memories, which my mom loved. "Well, thank you, girls. I really enjoyed today."

Keep tabs on Madison's frequent annual festivals like the Madison Chautauqua on the last full weekend in September or the Soup, Stew, Chili & Brew the second Saturday in October—and make plans to visit this soulful river town. We think you will enjoy it, too.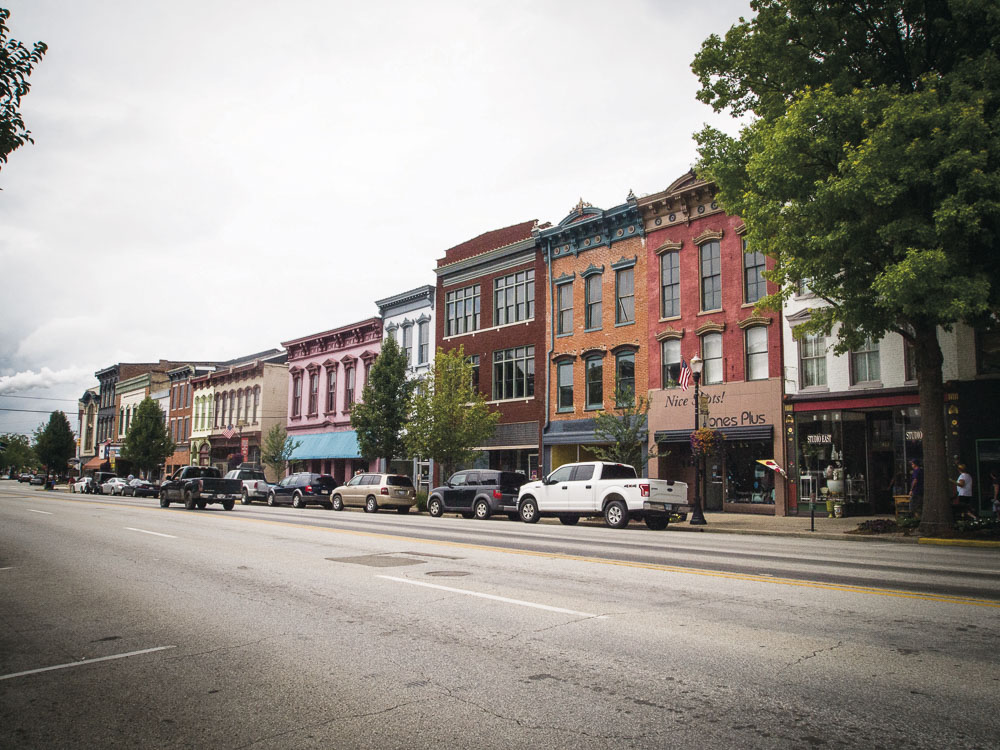 Jennifer Kramer-Wine
Jennifer is development director for Edible Ohio Valley and a partner in Th e Fairview Agency. Her career path has allowed her to consider systems, change, and the future. Her husband, Dennis, and their daughter, Jade, are her lifelines as she strives to change the world through local food and meaningful education opportunities—while dreaming of pitching a tent in the wilderness.